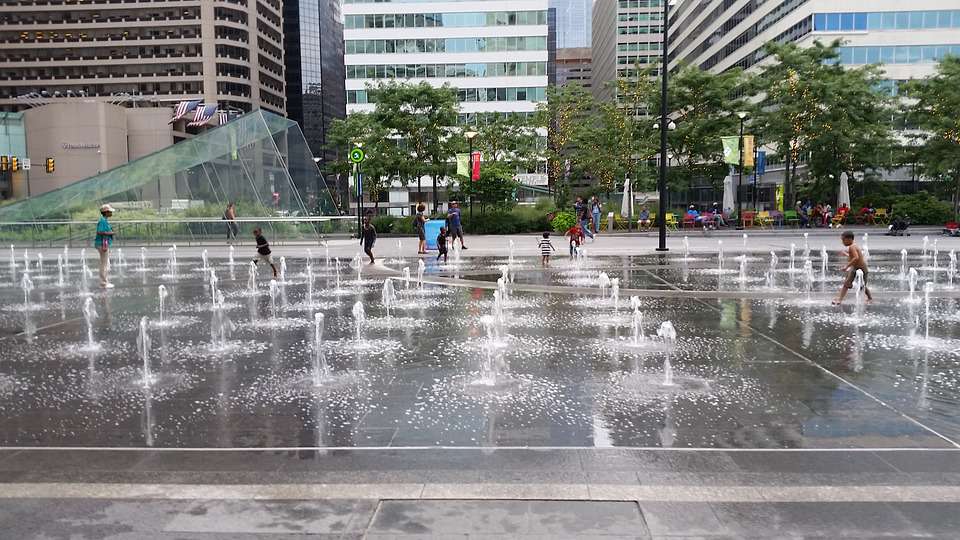 While living near Philadelphia parks means you have easy access to lush landscapes amid all the hustle and bustle of city living, our public spaces aren't just good for their greenery! On top of the endless opportunities to get in touch with nature and soak up some sunshine, Philly's parks also boast a full roster of community events, perfect for residents of all ages and interests—from movie screenings to workout classes to beer gardens. So scrap those vacation plans this summer and plan a staycation right at home, where you can take advantage of all the fun that Philly's parks have to offer.
Parks on Tap
Philly's favorite traveling beer garden is back this summer—bigger and better than ever! With an expanded schedule and new menu items, Parks on Tap is set for a banner summer season.
The effort is the result of a partnership between Four Corners Management, the city's recreation department, and Fairmount Park Conservancy to build awareness about Philadelphia's many worthy public parks. Parks on Tap is setting up shop at dozens of local green spaces—from small neighborhood locales to giant city parks—enticing locals to engage with the park system by offering mouthwatering menus and exciting entertainment. Enjoy craft brews and light bites while playing lawn games, taking in live music or relaxing in lawn chairs and hammocks. Even better, a portion of the proceeds from each event goes directly back to the host park!
In our area, Parks on Tap will pop up at Fairmount Water Works July 24–28 and then will close out the season at Strawberry Mansion Bridge Sept. 25–29. Living near Philadelphia parks like these never felt (or tasted!) so good.
Dilworth Park
Dilworth Park is located in the shadow of Philadelphia City Hall, one of the city's largest and most recognizable architectural marvels. While such an imposing city structure may seem to be a mismatch for a leafy green space, Dilworth Park has become one of the area's most popular city parks.
Featuring newly landscaped open grassy areas, benches, and tables, Dilworth is bustling with local workers and residents, many of whom kick back on their lunch break to enjoy the respite from busy city living that the park provides. Those looking to turn up the energy level can also do that at the park. Through October 15, the Center City District, which operates Dilworth and other local parks, is offering free fitness classes. Led by trained experts, the sessions feature Zumba on Mondays and Bootcamp on Tuesdays. Break a sweat with your neighbors, at no cost—and all with an eye-popping and energizing background!
Living in the city doesn't mean living without green space. Explore all that Philadelphia's parks have to offer and learn more about Reinhold Residential's apartment communities.