Living in a historic apartment building can have a lot of perks. You don't even need to be a history buff to truly appreciate all of the benefits. There's a certain appeal about calling home a building that has survived through the years, one that was around when the surrounding city was a completely different place. While modern construction works its way around cities, there's a reason certain historic buildings have stuck around and three good reasons you should call one home.
1. There's a lot of unique character.
New construction is all about efficiency and cost-effectiveness. This isn't to say that there aren't stunning new buildings going up, but it's often more sterile, less personal, and comparatively boring. In the past, there was a tremendous amount of pride that went into new construction. You'll notice this in the level of detail that can typically be found in the decorative finishes. Whether it's ornate crown molding, baseboards that do more than just cover the edge of the flooring, or bolder statement pieces — think cast-iron details on, say, the stair rails — you'll be hard-pressed to find any of this in new construction.
Reinhold Property Spotlight
Sharples Works |  300 E. Evans Street, West Chester, PA 19380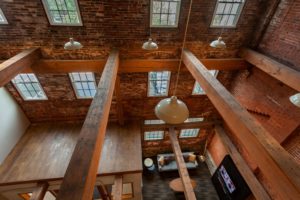 As home to the dairy industry's first tubular cream separator, Sharples Works in West Chester, PA lays claim to being one of the most significant manufacturing complexes in America. Today, the emphasis is on individuality. With more than 150 different floor plans to choose from, all apartments have been upgraded with modern features but still showcase unique architecture details like exposed brick and timbered wood beams. It's easy to see why Sharples Works is the perfect blend of the old and the new!
2. You'll find them in the hottest neighborhoods.
Historic buildings that have stood the test of time did so for a reason. They were built as showstoppers, and they remain as such. Their appeal caused them to become hot places to live. These buildings drew people into certain neighborhoods and subsequently contributed to the community's growth. So today, historic buildings that are still standing are often found right in the part of town you most want to be. You'll never have to look too far for things to do when you live in a historic building.
Reinhold Property Spotlight
The Chocolate Works | 231 N. Third Street Philadelphia, PA 19106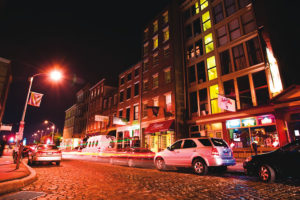 Once the home of the Wilbur Chocolate Factory, The Chocolate Works now offers 135 apartments in Old City, Philadelphia. Known as America's most historic neighborhood, Old City is a vibrant area full of cultural attractions and eclectic cafes, galleries, and boutiques. And, when a change of scenery is in order, The Chocolate Works is just minutes away from Center City and the hip & trendy neighborhoods of Northern Liberties and Fishtown.
3. History becomes a part of your life.
Whether or not you know it, just by living in a historic building, you become a part of history. There was a reason that certain materials were used, a method behind the layout of each apartment, and the walls hold the stories of countless lives and families that have called the building home throughout the year. This all plays into your day-to-day life as a resident. So, whether or not you learn the story behind the building, you become a part of it.
Reinhold Property Spotlight
The Metropolitan | 117 North 15th Street Philadelphia, PA 19102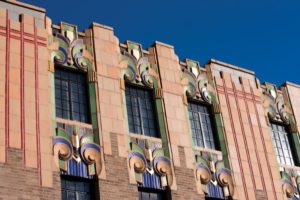 History Becomes Part of Your Life – The Metropolitan is one of Philadelphia's finest examples of Art Deco architecture. A landmark property that rises 26 stories into the Center City skyline, this masterpiece was designed by the famous French architect Louis Jallade in 1926. Original limestone details and the iconic 1920s Metropolitan sign on the exterior are matched inside with a spacious new lobby and resident lounge, a sleek rooftop terrace with amazing city views, and state-of-the-art gymnasium, and restored Art Deco basketball court.
How could you say no to living in a historic apartment building? Rethink city living in Philadelphia and West Chester, PA and Pittsburgh. Discover the conveniences and luxury amenities you'll have access to when you live in one of Reinhold Residential's historic buildings.
Contact one of Reinhold's leasing agents and schedule a guided tour today.